Pop the Corks at Uncork'd…
Uncork'd kicked off its 12th annual celebration of food, wine and booze with a sold out dinner at Thomas Keller's Bouchon at the Venetian. Vegas native, and exec chef of Keller's Ad Hoc in Napa, Matt Alba, was flown in to deliver the fried chicken goods and he didn't disappoint.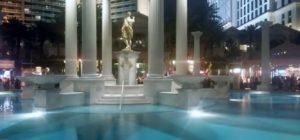 Next night, were there ever some good eats to be had at Uncork'd's Grand Tasting around Caesars pools. A lot of the top Vegas restaurants were showcasing their steak, Rao's their meatballs and Gordon Ramsay? Well, everything!!!
It is truly remarkable all the plates he's got spinning in the air in Vegas. There's the recently opened and packed Hell's Kitchen. Plus inside Caesars are GR's Fish and Chips, GR's Burger and GR's Pub and Grill. Plus GR's Steak down the street at Paris Las Vegas. If Ramsay is straining at having his name atop 5 restaurants in Las Vegas he wasn't showing it at Uncork'd.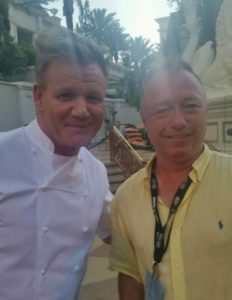 Totally the opposite of his abrasive character on Hell's Kitchen he was unfailingly polite to anyone who wanted a picture or autograph. Plus, overflowing with a remarkable energy, running all over the venue to where his handlers needed him. Say what you will about the man, he works his ass off.
I got tired of his yelling schtick after a couple of seasons of Hell's Kitchen, but the quiet mentoring of Thomas Keller, does not make for riveting TV and Ramsay knows it. But I love GR's work ethic and his honesty. When asked about his drug addicted brother who refused to work after getting out of the rehab that Ramsay had paid for, he said bollocks to that and cut him off. Good for him.
As for the food at Ramsay's pub fare restaurants? It was all quite tasty and a little pricey, exactly what one would expect in Vegas. Same goes for all the various restaurant booths that ringed Caesars' pools when you looked at their menus for possible meals.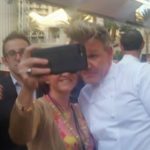 Next day, it was a totally different scene at the Park next to the MGM complex. The food was lighter, with patrons going for the bbq chicken and salad or the pork belly and salad, combined with fantastic desserts like Farmer Market Strawberry Rose Cream and Mango Pineapple Rum Chocolate Mousse. Plus, tons of refreshing cocktails.
One suggestion for Napa and Sonoma wineries. There weren't a lot of wineries represented at Uncork'd and it's certainly an opportunity for good wineries to step up and showcase their wares. Let's pop more corks at Uncork'd next year!