Whistler is the Place….
I've travelled half the world (working on the other half) and I've yet to find a better one and half hour drive than the one from Vancouver to Whistler, BC. Ocean on the left and mountains on the right, it is just a spectacular drive that you want to be in the front passenger seat to take in all the beauty.
So when I got an invite for the annual Whistler Beer festival I couldn't jump onto the Sea to Sky Hwy fast enough. Too bad the weather didn't cooperate as it poured almost through the whole weekend. But it was still a lot of fun to stroll from booth to booth and sample a whole bunch of excellent, craft beers. Fuggles and Warlock Craftworks won best beer award for the second year in a row, but my fav was Hoyne Brewery's Dark Matter, a rich, dark brew that was like a satisfying wine.
When I bounced into Whistler Village I was really looking forward to renewing acquaintances with Il Caminetto, a Whistler institution where I had one of the best meals of my life, a rare duck main that paired beautifully with a Barolo. I've never understood why people rave about crispy fried duck carved table side in Chinese restaurants. Yes, I know the skin can taste nice, but most Chinese chefs cook the hell out of the duck and lose all that nice gamey flavor until it might as well be chicken.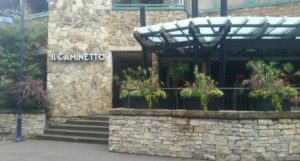 But alas, all my hankering for that rare duck again was a moot point as new management had taken over and it was no longer on the menu. Oh well, nothing stays the same, went with the flow and ordered a mushroom risotto that was very good, fresh mushrooms that you could tell just came from a nearby farm and risotto perfectly cooked, not too hard, not too soft.
And the menu wasn't the only thing that had changed. Gone were the big white table clothed tables, replaced by smaller, sleek tables all done in classy brown and grey suedes. Even long time manager Walter Wallgram had retired, replaced by an equally capable Ryan Hayes, who was like Walter's mini me in terms of looks, class and service. Gave me a tour of the new design, pulling out discreet drawers filled with the white wines and the private dining room where most of the reds from Italy are showcased in racks. All the changes hadn't affected business as the place was jumping and I was happy to sit at the bar and have some laughs and sips provided by the affable, fun bartender Shane Larkins. If you go during ski season, make sure you make a reservation. Trust me it will be booked.      
Next night, after all the beer tasting, couldn't resist going for some more Italian when I saw an old, good friend, Geoff Weddell who was the sommelier and manager at Quattro. A total pro, Geoff and I had a bunch of laughs catching up and he didn't mind at all when I said I may be a Neanderthal, but could I get a meat ball to go with my spaghetti and he smoothly returned my plate in ten minutes with a veal based meatball that paired nicely with the noodles. Plus, he made sure I had some good reds to go with my meal.
While most people go to Whistler for the skiing, never forget it's a great dining destination as well. Cheers.