Wine and Rock n' Roll…
Does rock n' roll and wine go together?  Let's face it. Not really. While there's a few rock stars who have bought wineries, the two pleasures don't really mix. Rock n' roll is jack and coke and beer. When I open a nice bottle of wine, I'm not tempted to blast the Stones, instead opting for some classical usually.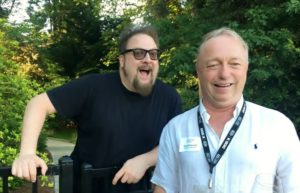 Take a little peruse of most wineries that hold concerts through the summer and you'll find few hard rock acts on the bills. Like I say, the two don't mix.  That's not to say you can't find some excellent music being offered at wineries every summer.  Consider the rockin, two hour plus show Chris Isaak put on at Ste. Michelle Vineyards where the singer joked, "Man, this is a well-heeled crowd, you all must have jobs, or come with someone who does."
One thing about a well-heeled, winery crowd you don't have to deal with the loaded idiots that I recall from the rock concerts of my misspent youth. It's all so nice and civilized now. While walking to our lawn chairs halfway up the hill I couldn't help and stop to say hello to Isaak's guitarist Hershel Yatovitz who was bemusedly taking in the mellow crowd before changing into the Silvertone band's all black ensembles.  Chris Isaak gets to wear the sparkly jacket, hey, he's the star!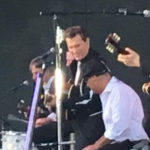 When asked if there was a chance that the Chris Isaak TV show had a chance of coming back, Yatovitz said it wasn't likely. "We had a ball making the show. It was a lot of fun. Vancouver treated us great. But it was just too much, 16 hour days filming with a lot of sitting around. Fine if you're an actor, you're used to that, but we like playing music more."
When Isaak and Silvertone hit the stage a half an hour later, the sun was just going down and it was awesome to let great songs like Wicked Game float ethereally over you. And when Isaak closed his set with Baby Did a Bad, Bad Thing he had that well-heeled crowd on its feet and yowling for an encore which he cheerfully supplied. Wine and rock n' roll managed to combine for a fine, fun night out under the setting sun that night.
Pre-concert we were glad we made the effort to explore Woodinville a little and found the Purple Cafe and Wine Bar where there was good pub grub, wine and beer to be had with friendly, cool staff like Hilde. Since we had more time to kill before the concert we went next door and had a fun tasting at Sparkman Cellars Tasting Room.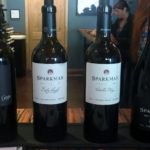 Upon arrival at Ste. Michelle Winery we were part of the lucky guests to partake in the pre-concert reception of fine food and wine.  The Coconut Shrimp were just right and tasty.  Not to be overlooked the Grilled Kalbi Beef Skewers were a great combination of grilled beef and veggies.  There was a vast array of Chateau Ste. Michelle's tempting wines, desserts and charcuterie at the Peacock Lounge during  Isaak's show as well.
And the day before we fueled up at Cedar's Cafe within the Tulalip Casino resort.  We had the pork chop special from the Very Berry Summer menu (May 31-July 31) that was celebrating berries available in the northwest.  A black berry port wine compote arrived with our tasty chops and we started with their yummy chowder.  Other berry creations are available throughout the Tulalip's dining establishments.  What more can you ask for when you get fine food, wine and music for a weekend getaway?  Attend another summer concert at Chateau Ste. Michelle!