No Ego in the Wine Biz …
Some times when the Insider is on the road, it's fun to get an outsider sommelier to do the NSI Quiz to get their perspective on the industry. Recently while in Las Vegas for Uncork'd I got Jason Smith, a master sommelier, and the executive director of wine for MGM Resorts to cough up 5 minutes after being pulled every which way for his take on all things wine.
Sorry, I'm late, it's just crazy, Smith said, pulling up a stool at one of the outdoor tables at the MGM Walk in the Park event on the Sat afternoon.
Ah no problem, I found a nice Pinot from Oregon and I don't have a big ego.
You're in the wine media and you don't have a big ego, what's wrong with you? Smith laughed.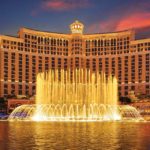 What was last night's dinner? A Japanese noodle place in a strip mall near my daughter's ballet class where we went after her class, she was happy.
Favorite drink? A Negroni.
Why do somms like Negroni's so much? It's just the perfect cocktail. Not too sweet with just the right acidity.
Favorite dining spot in Vegas? Harvest at the Bellagio. They have got a great farm to table program there that's got terrific balance.
Favorite music? I like a little bit of everything. But when it comes down to it, I'm a classic rock guy, Led Zep still does it for me.
Favorite thing about living and working in Vegas? Love the weather, sense of community among hospitality staff.
Any brush with celebrity? None that I can talk about.
What makes a great wine list? It's got to match the style and food of the restaurant. There's no point having ultra-expensive wines in a casual place and no point in having mediocre wines in an expensive place.
Any wine, meal or place to visit on your bucket list? I'd love to go to New Zealand and Australia. Under-rated wines and dining scene in both countries.
Final thoughts? Drink what you like. Too often somms push wines on people they don't want. I'm all for people expanding their palette. But drink what you like and don't worry about what other people say.