Great Views at Vancouver Wine Fest
 …
My liver took a pounding but had a lot of fun.  Victoria's 5th annual craft beer festival kicked off at the Victoria Public Market. Vancouver Island Brewery had a raspberry export stout that was delicious. Normally I try to avoid beers with fruit titles in them as they usually turn out to be way too sweet, but the raspberry export stout was a really nicely balanced stout that paired great with Roast Meat and Sandwich's meatball sampling on offer.  
There's a reason why Roast is easily the most popular eatery at the Victoria Public Market. You may have a five minute lineup for one of Roast's sandwiches but oh, are their pork or roast beef sandwiches worth it. Succulent, fatty meat served on fresh, crusty bread with tangy toppings. Yum!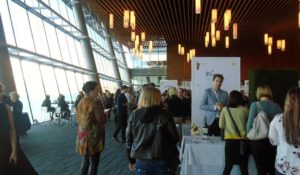 Next morning it was up early to catch the ferry for the 40th Vancouver International Wine Festival. If there's a prettier convention centre in North America I've yet to find it. Most big wine tastings can be a bit dismal  due to the nature of cavernous hotel convention rooms. But wow, those huge floor to ceiling windows overlooking Vancouver's harbor really make tasting there a pleasant affair.  
Each year Vancouver's festival celebrates a certain country's wines and this year it was Spain and Portugal. And there was a lineup to taste Spain's booths. Since I don't do lineups when all those wines were available it was fine to travel elsewhere around the world. 
From Canada, BC's Tinhorn Creek's Oldfield Reserve merlot satisfies with a long finish and Nova Scotia's L'Acadie Vineyards Vintage Cuvee Organic 2014 makes the case for why Nova Scotia has been getting rave reviews for their Bruts and Cuvee's.  
For Napa/Sonoma, Duckhorn's Paraduxx Zinfandel 2014was quite tasty and Sonoma's Cannonball Wine Company had an interesting blend in their Angel & Cowboys Red 2015. Happy sipping, see ya next year Vancouver!