Rain Didn't Dampen Yountville Live …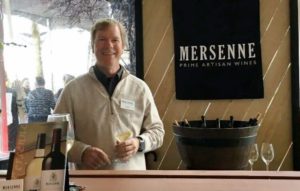 Had a soggy but fun time at Yountville Live's 2018 edition. At the opening night reception under the main tent it poured as we lined up and kept raining for an hour or so while the crowd sampled the excellent cocktails and wines that were on offer for the guests. Gotta love those Bees Knees cocktails, a little sweet, but a lot of fun to sip on a rainy night.   
There were many highlights at Yountville Live, here is a taste  –Kollar Chocolates –visited Chris Kollar's store to indulge in more artistic and yummy creations, Mersenne Wines – Winemaker Mitch Rice entertained and educated guests about their delightful wines, Suntory Whisky – provided a refreshing drink, Hotel Villagio, Bonanno Concepts,  live entertainment, winemakers and chefs to indulge in.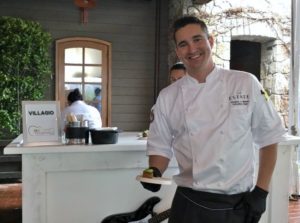 On Sat afternoon we headed out to Del Dotto's Piazza to say hello to my buddy chef Joshua Schwartz. His Delicacies Tasting Menu is so good. While he changes the menu every two weeks, there are two staples that must stay on his menu as they have proved to be so popular, his lobster roll and the burger slider.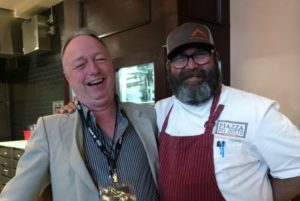 The Insider has never understood the big deal about lobster, seems a bland meat that offers little unless you drown it with tons of garlic and butter. Same with filet mignon. But Chef Joshua knows how to bring up a nice tangy taste to the lobster while wrapping it in a marvelous soft brioche roll that really brings up the flavor of the lobster.   
Between sips and bites, got to meet Dave Del Dotto, the co-owner, who explained how he had to hire Joshua away from Bouchon Restaurant. "I was eating there 3 or 4 times a week, and I thought, what the hell, might as well hire the chef who is knocking out this great food. "  
My gal had sworn she would never eat foie gras again after trying it for the first time at a Seattle all natural hotel restaurant helmed by another Keller alum, "that was awful, I'm never eating that again."  To lapping up Joshua's soft melt version. "So good. Glad I tried it again."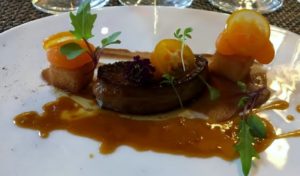 Chef Joshua's tasting menu was framed with an appy of pink scallops topped with Passmore Ranch Roe and Holland white asparagus and a dessert of Thai Ice Tea Parra Cotta. All served with various Del Dotto's wines, the 2012 Del Dotto Pinot Noir being the Insider's favorite.  
After being stuffed with Chef's Joshua's delicacies it was hard to imagine scarfing down more food at Yountville Live's main tent, so I headed to the packed barrel room where the top wines were being sampled. People were raving about Eleven Eleven's wines, so I got to their booth as the last dregs were being poured and was glad I did.  Check out their 2015 Calesa Pinot Noir.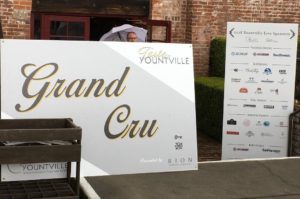 Rounded out the weekend by staying at Napa's newest hotel The Archer where we had a pleasant stay with a nice breakfast served in Charlie Palmer's restaurant that left us admiring the terrific lobby views throughout our meal. Gotta go back for the Charlie Palmer Happy Hour that's been packing em in since The Archer opened. Like Eleven Eleven's wines, if it's popular, it's usually good.