Not A Celeb Chef in Sight …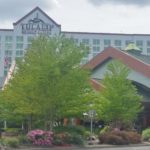 Casino restaurants have gotten a bit of a bad rap for being overpriced and not that good and perhaps deservedly so. How many celebrity chefs have stuck their name on a restaurant in a casino, taken the check and run? Too many to count. But that sure isn't the case at Tulalip Resort Casino's restaurants. A 45 minute drive north of Seattle, there's not a celebrity chef in sight however there is a charismatic Sous Chef in Brent Clarkson who is totally passionate about overseeing Cedars Cafe, the Draft Sports Bar and Grill, Destinations Lounge and Tulalip's room service.
I love this place. I've had some great gigs like being the Exec Chef for the Seahawks and the Sonics. But so far, this has been the most rewarding. The management here is just so committed to the best quality, plus no resting on laurels. Always looking to improve. It keeps changing which is another thing I love. Never gets boring here. I love that it just keeps getting better.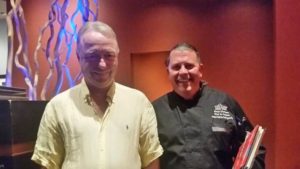 Considering how much he's got on his plate, it was a little surprising to find Clarkson was chomping at the bit to be a contestant on Hell's Kitchen. Why would he want to stick his head in Ramsay's maw? I've applied to that show several times. It's my favorite show. I admire Ramsay so much. Guy works his ass off and is so passionate about cooking. You got to admire a guy like that. I don't know if my resume makes me over-qualified or not, but I'd love to be on that show.
That night at Tulalip's flagship restaurant Blackfish I was impressed how Tulalip's Wine Director Tommy Thompson adapted to my pain in the ass request for a chard when his Syrah pick didn't do it for me when sampling the Blackfish Trio of smoked pork belly, Dungeness crab cake and smoked sockeye salmon. Instead of going into a snit that so many somms would have, he graciously accepted my request and chose a Sonoma based winery called Meiomi, that makes a fine, full-bodied chard that had an excellent mineral finish that paired with the fish perfectly. As for the trio, I liked all three, but that crab cake was awesome!
I'm not crazy about dessert, often too sweet for me, but oh did the berry meringue concorde ever kick the taste buds into heaven. Layers of crisp vanilla meringues, sweet cream and local seasonal berries. Topped with meringue pieces and accentuated with a fresh berry sauce. A delightful mix of crunchy and sweet, without leaving your teeth aching. Yum!
After dessert, we trooped off to Tulalip's theatre where Sugar Ray was performing. While I found his self aggrandizement a little off putting at first, the raucous sold out crowd lapped it up when he played his big hit Fly and by the concert's end the crowd was on its feet and having a ball including the Insider.
Post concert we had a good time at Blazing Paddles, Tulalip's casual pizza joint that wants you to design your own pizza with over 50 toppings. Next morning, eggs benny at Cedars Cafe was tasty and a Thai massage at Tulalip's spa left this camper sated and satisfied  Not to be overlooked, the bed was super comfy.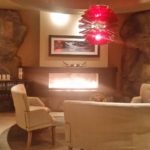 Finally if you are a fan of fruit in your cuisine Tulalip's culinary team is enticing diners this June and July with their Summer Berry Bliss menu offerings throughout their restaurants.  Dishes will be showcasing Northwest strawberries, raspberries, blackberries, blueberries and huckleberries.